Subscribe
Safe Cylinder Storage Tips: A Quick Refresher
There's never a bad time to revisit safety basics, especially when it comes to compressed and liquified gases. These gases play a huge role in our everyday lives, touching so many products and services that most non-industry people may not even realize.
With so many applications, it's important to remember that there are different methods of storing gas containers, as well as different types and styles of containers themselves. But one trait is constant: all gas containers are manufactured and labeled according to government specifications.
Compressed Gas Cylinder Basic Responsibilities
No matter what the application, usage, or environment, there are a handful of basic responsibilities that any user of compressed gas cylinders or containers must abide by for basic safety:
Always maintain good working order of gas cylinders and containers and their related equipment, and never make modifications.

Always read and understand labels and container markings, and ensure they remain in completely legible condition.

Handle, store and use cylinders and containers correctly to avoid damage.

Know and understand the risks involved with gas cylinders and containers, and make sure that they are stored correctly for the type of gas and container.

Promptly report any damage or other problems to the gas supplier or distributor so issues can be handled quickly.
The Compressed Gas Association (CGA) provides helpful posters to be displayed in compressed and liquified gas facilities to remind users of the important safety precautions and safe usage reminders.
Universal Cylinder Safety Rules
Depending on the type of gas and container, there are a myriad of safety precautions that should be heeded. That's why it's so important to properly train employees working with and around compressed and liquified gases and prevent potentially catastrophic accidents.
When moving cylinders and containers, only use equipment specifically designed for that task.

Always secure cylinders and containers when being used, transported or stored.

Make triple-sure to use the correct valve outlet connection.

Always connect all equipment before opening a valve.

Never return gases or other products into a cylinder or container.

Immediately notify your gas supplier of any equipment issues, damage, or leaks.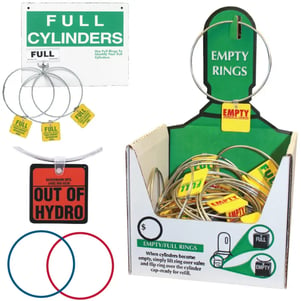 Use Ring Tags to Quickly Identify Cylinder Status
Have a cylinder that needs repair? Not sure which cylinders are empty or full? Ratermann cylinder ring tags were designed to make it quick and easy to visually identify cylinder status, even from a distance.
Developed by George Ratermann as the foundational product Ratermann Manufacturing was built on, ring tags come pre-printed to identify empty or full, contaminated gas, leaking cylinder, need for service, and a variety of other cylinder conditions. You can also customize tags with your company branding and information so users can locate the right number to call in seconds.
Simple and effective, cylinder ring tags make it that much easier for employees to stay safe around cylinders and prevent dangerous mix-ups from occurring.