Subscribe
Designed specifically to prevent leaking in cryogenic applications, the Worcester C44 Series Ball Valve is highly preferred by technicians in the field for a number of reasons:
High flow rate: The ball valve design allows for a high flow rate, extremely important for cryogenic applications in order to prevent the liquid from freezing.
Low body mass: A low body mass makes it easy to transport and install – important for cryogenic applications where the valve may need to be moved frequently.
Ease of operation: Even when the valve is cold, it's easy to operate with a sure-grip handle.
Ease of maintenance

: Seats and seals are easily replaceable in-line, making it easy to keep valves in good working condition.
The Advantage of Full Flow
In a cryogenic pumping system, you want to create as much flow as possible, because any flow restrictions can create detrimental problems like cavitation. Consistent pressure and flow are imperative.
For safe cryogenic service, you need a vent hole on the inlet side of the valve to prevent dangerous pressure and cryogenic liquid build-up when the valve is in a closed-ball position. Worcester ball valves feature an upstream relief hole in the ball that prevents thermal expansion. On extended stem valves through 2 inches, a one-piece stem with an alignment pin ensures proper ball orientation.
Built for Extreme Cold
Worcester C44 Series Ball Valves are rated for -425°F and below, which means they can be used in hydrogen service, CO2 service, or any extreme cold applications. From an industry perspective, applications range from frozen food plants to CO2 beverages and breweries to rockets and space. Use applications range from the smaller scenarios like hospital manifolds to nitrogen systems for medical treatments, all the way to much larger applications like fill trailers and bulk tanks. Cryogenic ball valves are extremely common in air separation plants and in the space industry for rocket engines, hydrogen systems for rocket boosters.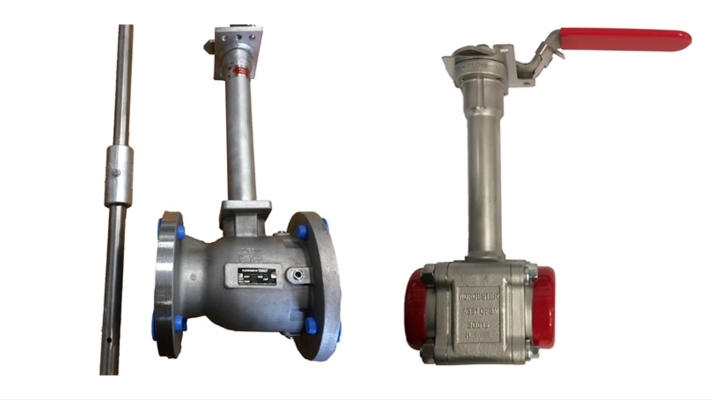 Multiple Styles and Configurations Suit Specific Applications
Worcester ball valves come in a variety of styles and sizes to work in a wide range of applications. Sizes extend from as small as ¼-inch all the way up to an 8-inch version, with all stainless steel and bronze configurations. Other options include 150 and 300 flange configurations, a wafer style designed for limited physical space, and a large, C51 model that comes with a handle for extra torque to help open and close the larger valve. Valves also come in no-stem or extended stem versions.
The Worcester ball valve's three-piece construction makes it easy to install and maintain. Simply remove three of the body bolts and loosen the fourth to swing the valve out of line. In welded or soldered piping systems, remove all four body bolts and lift out the center section for maintenance or replacement.
Polyfill Seat Design – Unique in the Industry
Worcester's unique Polyfill Seat is completely different from other seat designs typically used in the industry. It's essentially a hard, carbon-filled seat built to hold up to debris and particulates. One of the biggest points of failure on other ball valve designs is when the ball actually grabs hold of the seat and pinches it, creating a leak path. Worcester's unique seat design prevents this from happening.
Additional Advantages:
Built of high-quality materials that are resistant to corrosion and extreme temperatures.
Leak-proof, even at extreme cryogenic temperatures.

Pneumatic and electronic, computer compatible controls for automatic installations.

Stem extensions conform to standard industrial practices, meaning wall thickness and lengths keep heat transfer down, the packing frost-free, operational torques low, and actuators solidly supported.

A variety of connections are available: screwed end, socket weld, butt weld and solder/sweat ends.
Reliable and versatile, Worcester ball valves are largely considered "the Cadillac" of valves for use in cryogenic applications.