Subscribe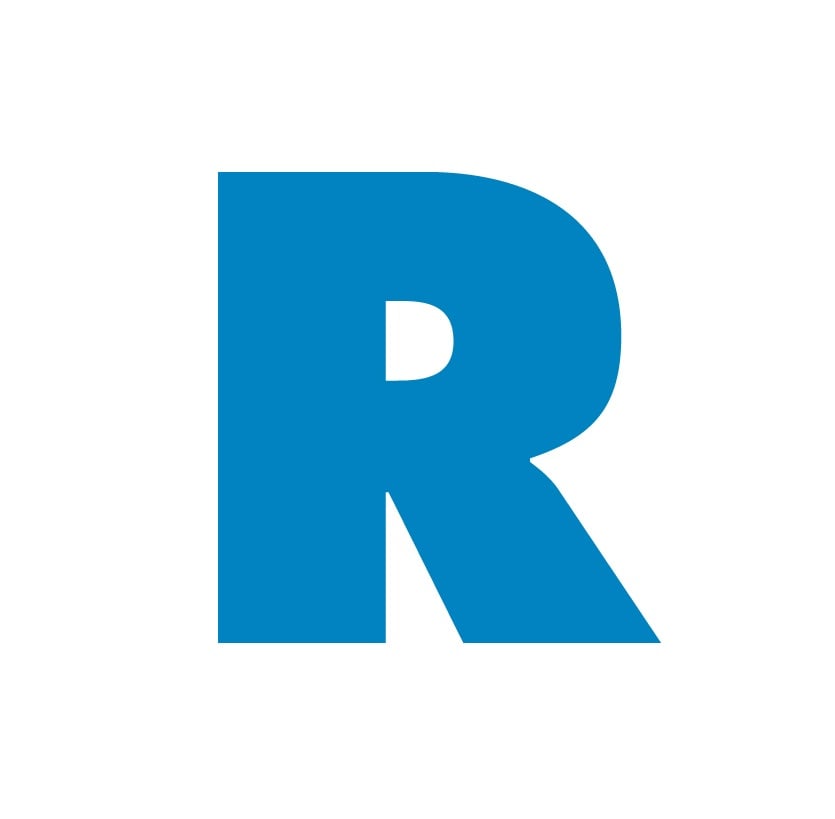 SkillsUSA, What is it and Why the Gas & Welding Industry Should Care
Medical Gas Supplies | industrial gas supplies | Fill Plants
George Ratermann explains the importance of SkillsUSA and the effect it has on our industry..
---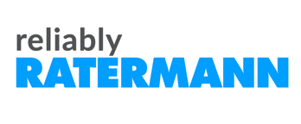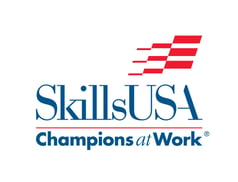 ---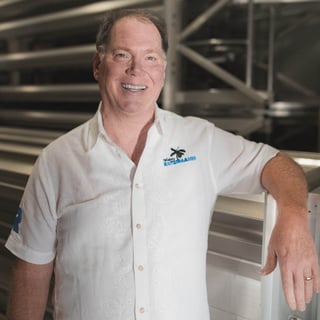 SkillsUSA is a workforce development organization that is comprised of students, teachers and industry working together to ensure America maintains a skilled workforce. Founded 50 years ago, SkillsUSA serves more than 300,000 students and instructors annually across all 50 states, and aims to empower its members to become world-class workers, leaders and responsible American citizens. SkillsUSA has 13,000 school chapters in 54 state and territorial associations, and more than 14,500 instructors and administrators are professional members. The organization is student run, and teaches trades including welding, while also training students in leadership, management, networking and public speaking. Students lead all of the business from an organization standpoint and a staff ensures operations continues to run smoothly.
All SkillsUSA curriculum is grounded in academics to ensure a solid framework for the students who are learning from the program. It requires students to train in their skill of study, such as welding, and develop excellent personal skills and professionalism so that they are top candidates when joining a company after graduation. SkillsUSA equips students to start as entry-level welders, but also provides skills required to be a future leader at their employer. Because of this, SkillsUSA is a valuable partner to the gas and welding industry in providing workers who are prepared to join companies equipped with the skills required to succeed.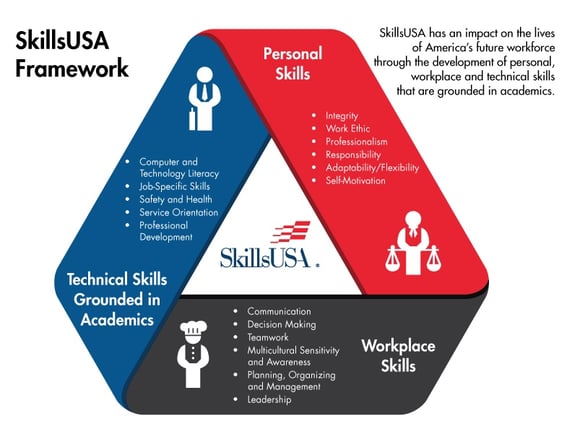 (The framework model of SkillsUSA. Via: www.skillsusa.org)
SkillsUSA has a number of focus areas including employability and leadership training that employs award-winning curricula, such as the Professional Development Program, that supports SkillsUSA's Program of Work. This training is conducted in over 17,500 classroom sections and provides opportunities for students to lead the organization as officers and chapter members. Civic engagement is also a key component of the organization, as local chapters hold thousands of community service events each year, utilizing skills learned in the program to improve their hometowns and communities. SkillsUSA also focuses on addressing the widening skills gap by offering specific programs designed to meet the challenges that American industry currently faces. Finally, SkillsUSA travels to local school boards, statehouses, and the federal government in Washington, D.C. to speak with policymakers and the media about the importance of career and technical education (CTE) to industry. Each of these focus areas allow students in the program not only to learn, but also to become leaders within the organization and pave the way for the next generation.
Because SkillsUSA has implemented such a comprehensive approach to preparing individuals for successful careers in industry, companies in the welding and gas sector rely heavily on SkillsUSA to meet employment needs. As President of Ratermann Manufacturing, I have firsthand experience witnessing how SkillsUSA prepares students to be effective workers for both gas distributors and their customers, the welding companies. Companies like Ratermann have come to rely heavily on SkillsUSA for meeting growing workforce demands. SkillsUSA does a great job filling the blue-collar job gap that has been a growing problem for companies, especially in recent years.
The organization does a terrific job working with gas and welding companies to learn what companies are looking for in employees.
One of the unique qualities of the organization is how adaptable it is to job trends in the gas and welding industry. The organization does a terrific job working with gas and welding companies to learn what companies are looking for in employees. SkillsUSA then adjusts its teaching focus to ensure that students have the required skills before graduating from the program. This allows companies to hire new employees without needing to undergo an extensive training period with them. By eliminating wasted time, companies can focus on producing great products for their customers. Companies like Ratermann are seeking motivated, skilled employees who not only know the theory they have learned, but can also confidently put it into practice.
SkillsUSA really sets itself apart from traditional college and university education because of this focus on practical knowledge and application. Whereas college graduates often only possess theoretical knowledge of their field, SkillsUSA students are ready and able to tackle challenges on day one at their new employer. Essentially, in a traditional academic setting, students are customers of the school or university. However, when it comes to what is taught to SkillsUSA students, they are not the customer. The customer is the company that is going to hire the SkillsUSA students after they graduate from the program. SkillsUSA recognizes that the employer-employee relationship is a two-way street, and that employees are looking for managers who are straightforward with them. Employees like to feel a sense of purpose for the work they are doing, and employers who partner with SkillsUSA, hungry for talent, are more than happy to comply.
"I'm a product of it [SkillsUSA]. It changed my life and it changes lives and that's all there is to it."
In addition to learning technical skills that will be utilized once the student graduates and joins a company as an entry-level welder, SkillsUSA teaches life skills as well as technical non-professional skills including leadership, management, networking and public speaking. Technical skills are critical to the success of an employee, but without life skills, the employee will not be as effective as possible once on the job. When a SkillsUSA graduate joins a company, they exude characteristics that often exceed those that have been working at the company for a long time. Graduates have skills, such as looking someone in the eye and shaking hands when introducing oneself, that goes a long way in establishing one's reputation at the new company. Other more traditional academic schools don't teach these crucial life skills to students.
A great SkillsUSA success story is Nick Peterson, a Curriculum Developer and Welding Engineer at Miller Electric Manufacturing Company in Appleton, WI. Nick got involved in SkillsUSA when his high school welding teacher enrolled him in a state welding competition that SkillsUSA hosts every year. To his surprise, Nick won the State welding competition, and went on to compete in the national competition not medaling. Hi did this twice before being invited to compete in the American Welding Society (AWS) Team USA selection process to become the SkillsUSA World Team welder at an international welding competition, what is now called the Worldskills Competition. Nick went on to represent the United States in Taipei, Taiwan, and took home a bronze medal as the third best welder in the world. Nick then was awarded a $40,000 scholarship from Miller through the AWS Foundation to continue his education and obtain a welding engineering degree from Ferris State University in Big Rapids, MI.
Today, Nick develops curriculum for Miller including writing, graphic design, editing, and digitizing welding learning materials. He also serves on the SkillsUSA Foundation National Board, which is the business and partnership fundraising board for SkillsUSA, chairs the Arizona State University welding competition, serves on the National Welding Competition Committee, and serves as Vice-Chairman of the American Welding Society Skills Competition Committee. Nick has high praise for SkillsUSA: "I'm a product of it [SkillsUSA]. It changed my life and it changes lives and that's all there is to it." Without the SkillsUSA competition, Nick might never have realized his potential. A similar story is heard throughout SkillsUSA students. Talking to the 2017 SkillsUSA National welding representative, 19 year old Chandler Vincent, you hear a similar tail, "SkillsUSA has taught me both professional and trades skills, I don't feel insecure in a networking situation. SkillsUSA has taught me how to continue to look for ways to improve my work and time management." 18 year old Esmeralda Alvarado is a SkillsUSA student and president of her local SkillsUSA chapter. Esmeralda is both a regional and state winner of the SkillsUSA welding competition. Esmeralda plans on continuing her career in welding after attending college. SkillsUSA not only empowers students for success in the gas and welding industry but SkillsUSA also plays a vital role in creating woman leaders within the predominantly male welding industry.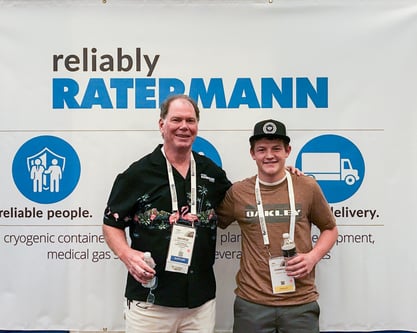 (Chandler Vincent, SkillsUSA student & USA welding representative with George Ratermann at GAWDA SMC2017 after Chandler spoke on the "Gen-Next" panel hosted by George)
It's important to note that most SkillsUSA students reach a management role in the gas or welding industry in a short amount of time. So, a gas distributor who is working closely with the student welders at SkillsUSA is essentially building a relationship with their future customer. Therefore, the gas distributor has an investment in seeing the student successfully graduate from the program fully equipped to make an immediate impact at their company. Or the gas distributor can recommend a welder to their customer, the welding company, to ensure a smooth working relationship between the two companies. Likewise, gas and welding supply stores sometimes have repair departments where they employ in-house welders or even service technicians. No, not the welders, but the Power Equipment Technology contest where SkillsUSA students are troubleshooting and diagnosing the Fuel Systems on engines, troubleshooting electrical and mechanical systems. These students would have the skills to understa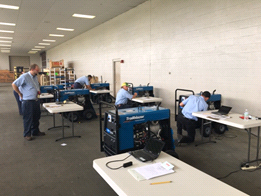 nd how to repair equipment. Not only can SkillsUSA students become gas and welding supply stores customers, they can become employees of the gas and welding supply stores. It is a mutually beneficial system for the student, the company, and SkillsUSA.
(Competitors troubleshooting the fuel systems on welding engine drives in the Power Equipment Technology contest at the National SkillsUSA Championships.)
There are numerous ways for a company to get involved with SkillsUSA. Because SkillsUSA has a presence in all 50 states, there are ample opportunities to take advantage of all that the organization offers. More than 1,200 companies and organizations currently participate in SkillsUSA programs. One way to get involved is by taking advantage of sponsorship opportunities at local, state and national welding competitions hosted by SkillsUSA. This provides a great forum for expanding business presence and getting to know students who soon will be seeking employment within the industry. Another way to get involved is by working with local community colleges who teach the SkillsUSA curriculum. From a financial standpoint, companies can often claim tax credits or deductions from working with SkillsUSA and local schools.
Nick explains the tangible benefits for a company getting involved with SkillsUSA: "There are a lot of benefits to the company in that process. There may be tax incentives on some level. If you take advantage of them, that's up to you and your tax professional. But sometimes it can be a financially beneficial thing to your business in addition to gaining employees that are a cut above the rest. So how do you get involved? Start local. Get involved in a regional contest, maybe just supporting the local school's SkillsUSA welding chapter with some extra materials to practice with or some apprentice training in your shop as they prepare to go to compete. That extra experience outside the classroom will make them better competitors."
SkillsUSA is an exceptional organization for our customers and our industry. Companies in the Gas and Welding industry should look at supporting and getting involved in their local SkillsUSA chapters. For more information about how to get your company involved with SkillsUSA, contact Christa Floresca, Director of Business Partnerships and Development, who can be reached by phone at 703-737-0603 or email at cfloresca@skillsusa.org.