Subscribe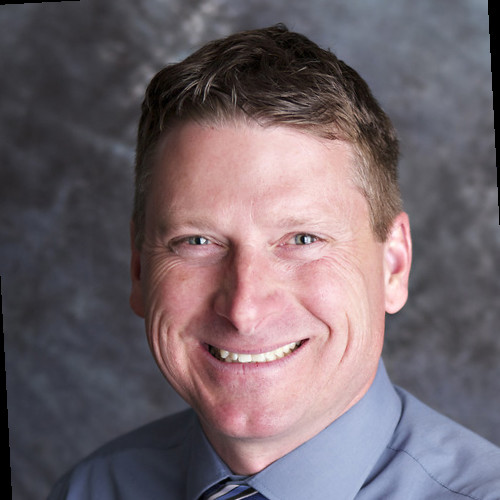 Cradles & Manifolds
Cradles have been around for a long time and provide a lot of products in a small space. Configurations can be 6, 12, 16 & 18 cylinders. The gases put into these packages can be: Oxygen, Argon, Hydrogen, Methane, Helium, Breathing Air, Argon/CO2 mixes, Nitrogen, & CO2. Unlike liquid DOT4L cans, you don't have to worry about the gases building up pressure and releasing out the safety when not in use. This makes these cradles useful in warmer weather and sitting for long periods of time. Another advantage is the flow rates. With cylinders being filled to high pressures ranging from 3000 psi to 4500 psi your flow rates are high with correct sized regulator and downstream hose sizes. You can even pull off both supply valves on manifold to get multiple users off each unit. Ratermann Manufacturing supplies these in many shapes and sizes.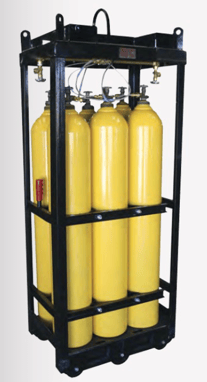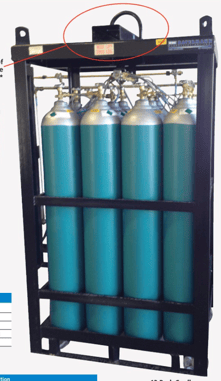 Cradle Assembly
Durable powder-coated paint. Many color options to help with your company branding or designated gas service. Offered in galvanization options. Drains at the bottom for last quality in any weather. 7 gauge steel top protects while providing a sturdy lift point. Cradles are offered in many different wheel/non-wheel configurations. Optional 6 in-line caster designs allow for a full 360-degree spin. Also available with four casters. One on each corner. The cradles can also be ordered with no wheels. Wheels are useful for job sites having freight elevators to move cradles around. All of our cradles have the capability to be moved with a forklift or an eyehook on the top to grab with a crane. We can also customize your cradle by cutting out 2" letters at the top of the cradle frame to identify your company name.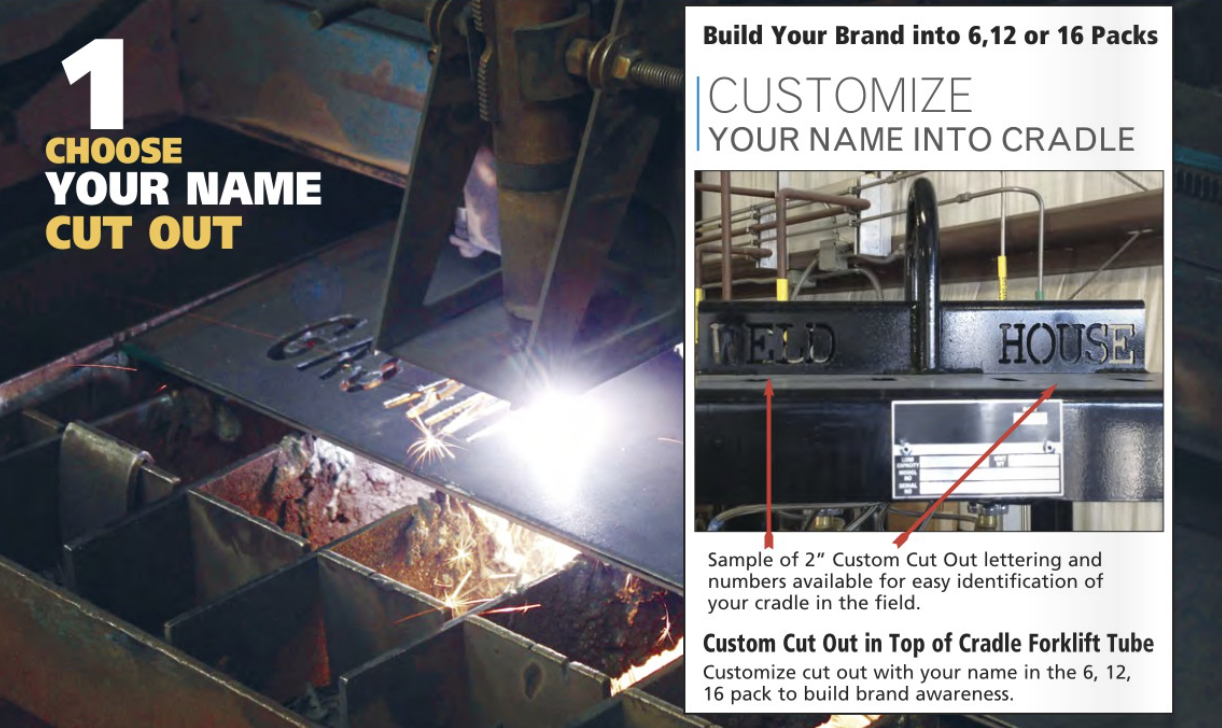 DOT-SP 14175
What does this mean? Here is the Department of Transportation code. Each cylinder covered by this
special permit must be plainly and durably marked "DOT-SP 14175" in the proximity of existing DOT markings. Additionally, one cylinder on each side of a bundle must be marked with letters at least 1 inch high on a contrasting background "DOT-SP 14175". Cradle ships fully assembled, comes stamped with a serial number, and are designed with open sight to the cylinder bottoms for the 5 and 10-year inspections. Select cradles come with PE stamps and load-test certification to meet vigorous off-shore requirements.
Types of Manifolds
Ratermann Mfg. offers custom manifolds, Flexible pigtails, Monel, Rigid Copper, and Stainless steel. All of our manifolds have a CGA valve at each end. Pressure ratings from 3000 psi to 4500 psi. We even offer Orbital-Welded manifolds for those high-purity gases.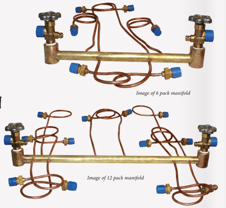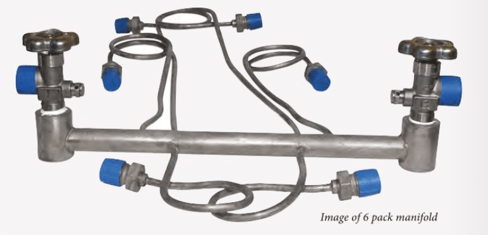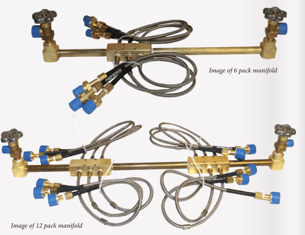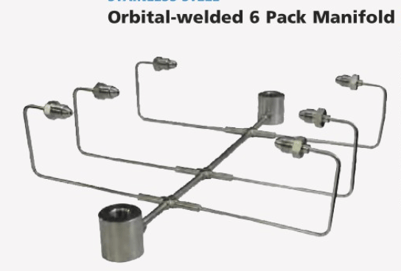 Pigtail Hoses
Depending on your application Ratermann Mfg. offers flexible pigtails off the manifold to cover many gases. Post Sintered Tethered PTFE Lined Stainless Steel braid pigtails are good for Argon, CO2, Nitrogen, & Oxygen gases. Tsczel ETFE Lined Stainless Steel braided pigtails are good for Helium and Hydrogen gases. This type offers 75% less effusion than standard PTFE pigtails. Effusion means the small molecule of gas leaking out through the hose lining.